Borris point lace is a tape lace, one of the many 'modern' Irish needlelace developed in the 19th Century to relieve the hardship which followed the Great Family by making the poor women of Ireland and their households more economically self reliant and independent of charity. In many cases the laces evolved as a result of the clever study and copying of old laces from Europe by philanthropic Irish women.
Two Irish laces from this period, Limerick and Carrickmacross, which are embroidered onto machine made net, have become extremely well known internationally. Borris lace, which is unlike any of the other Irish needlelace, utilises machine made lace tape which is sewn to a pattern, the elements of the designs being held together by piloted bars or a net ground. decorative filling stitches are used as a highlight and to fill the open areas of the design. Borris point lace was a forerunner of the 'modern' tape laces, which are dated by most lace historians from the 1860's on.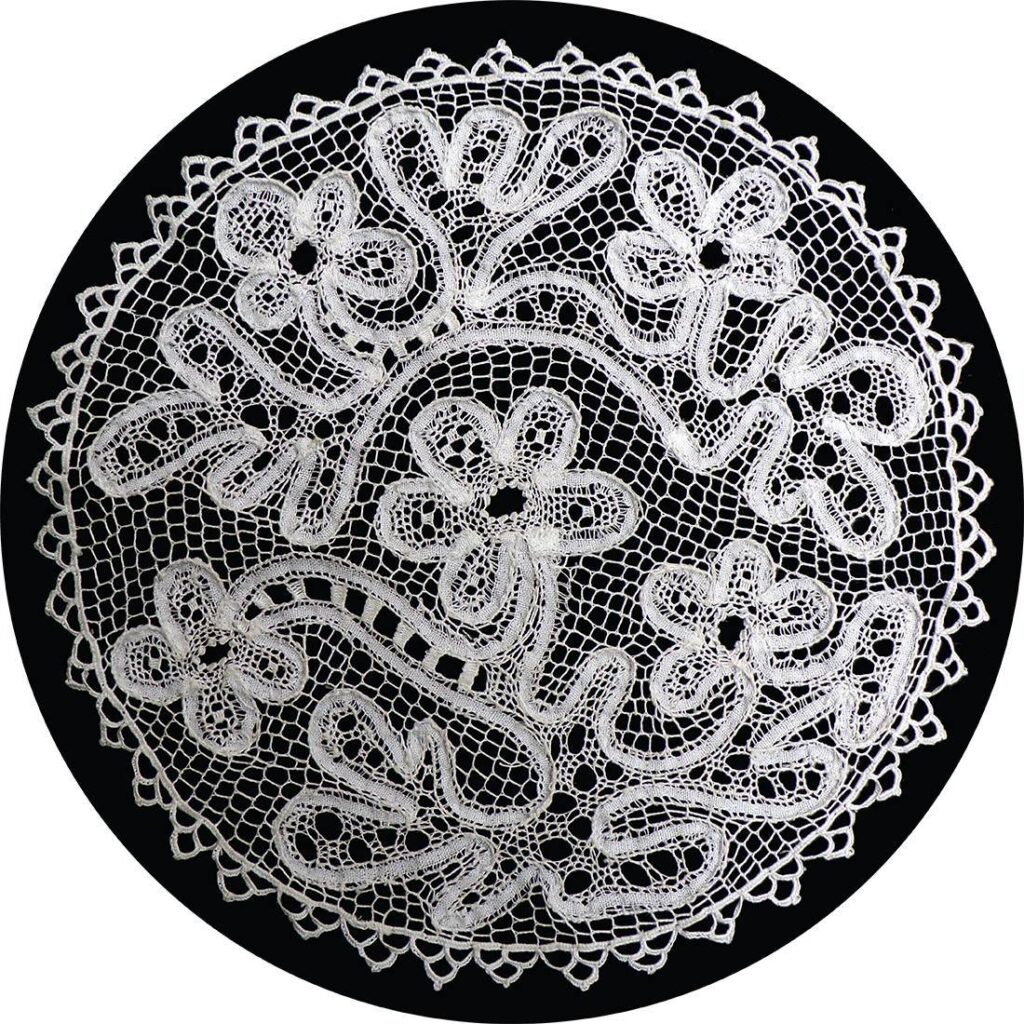 The origins of Borris Lace
In Ireland at the time of the Great Family (1846-1848) the effects of the distress caused by the potato crop failure lasted for many years. Lady Harriet Kavanagh, mistress of Borris House estate, realised that she had the connections to enable her to market a lace product, and a number of women on the estate who were in dire need of support and 'noted to be good workers of plain work'.
It was said the mid Victorian travellers in Italy were able to obtain almost any quality of this peasant laces for a moderate consideration. The old laces which we found in the collection at Borris House and which we refer to as the Kavanagh 'family lace' are possibly the pieces brought back by Harriet from her frequent trips to the Neapolitan Riveria. Down through history laces have been named after the town where they were made or the place where they were purchased. In this case the pieces could have been purchased in Corfu or Italy or anywhere else. Lady Harriet travelled widely and bringing back a substantial number of antiques which now form part of the egyptian collection of the National Museum of Ireland.
It is well documented that all the various laces made in Ireland are copies of foreign laces and that no lace is actually indigenous to Ireland. Borris lace is no exception, and Lady Harriet may have been well aware of this when she embarked upon her lacemaking enterprise.
As well as the patterns, the names of old laces were also copied, which adds to the confusion.  Indeed various articles in The Times London recorded this in the report of an exhibition of Irish Lace at Devonshire House in 1909 made a special mention of Borris lace, 'which is in fact a modern reproduction of Point de Milan, copied from beautiful old Italian models'.
(text reproduced from https://borrislacemakers.wordpress.com)